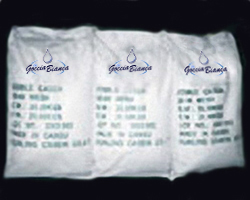 General description
Casein (synthesised in the udder) is a phosphoprotein, formed by various fractions (a, b, g, k). It is present in milk in colloidal suspension, in the form of aggregates called micelles. The casein micelles in the milk, through enzymatic action, acidification or heating, group together with one another and coagulate. This leads to the formation of curd, and is the first phase in the cheese-making process.
Milk proteins are composed of 80% casein and 20% whey proteins.
Casein is therefore the main component in milk proteins. It is produced from skimmed milk precipitated by rennet and/or acid enzymes. Depending on the substance used for precipitation, presamic or acid casein is obtained.
1) Acid Casein
Product

Fat

Proteins

Lactose

Ash

Water

(in %)

Edible acid casein 30/60 mesh

1,3

86,5

0,15

2,0

10,0


Edible acid casein 90/110 mesh
| | |
| --- | --- |
| Colour | Yellowish-white |
| Organoleptic features | Characteristic taste |
| Characteristics | Non-soluble at pH 4.7, fully soluble in a basic environment, low calcium and phosphate content, excellent stabiliser and flavour enhancer, excellent heat-stable flavour, excellent food value. |
| Uses and applications | Chemical industry (paints, adhesives, gloss paper, sealants), food industry (coffee whitener, spreading cheese), pet food. |
| Packing | 25 kg bags, Big Bags |
2) Presamic Casein
Product

Fat

Proteins

Lactose

Ash

Water

(in %)

Edible presamic casein 30/60 mesh

1,0

82,0

0,2

7,5

8,0


Edible presamic casein 90/110 mesh
| | |
| --- | --- |
| Colour | Yellowish-white |
| Organoleptic features | Characteristic taste |
| Characteristics | Non-soluble at pH 7.1, high calcium and phosphate content, soluble when bound with calcium, excellent stabiliser and flavour enhancer, excellent taste, good heat stability, high nutritional value. |
| Uses and applications | Food industry (cereal flakes, cheese sauces, some meats), chemical industry (galalite, Lanital). |
| Packing | 25 kg bags, Big Bags |